Safe Environment(s) (WISE) Study
Introduction

The Women In Safe Environments (WISE) project was launched in February 2006. This three year research project was funded by the Health Research Council (NZ) and sponsored by Interdisciplinary Trauma Research Unit at Auckland University of Technology. The interdisciplinary team of investigators included Associate Professor Jane Koziol-McLain and Drs Janet Fanslow, Emma Davies and Ian Hassall.

The WISE project team joined with women and young persons to explore whether health providers can increase women and children's safety and reduce the negative health effects of violence in the home. Violence in the home is a significant health issue for far too many women in Aotearoa and affects physical, mental, family and spiritual health.
The efficacy of the emergency department brief intimate partner violence screening intervention was tested in a randomised trial. Among the 344 women, 44 (12.8%) reported intimate partner violence during the 3-month follow-up period: 24 of 177 (13.6.%) among women in the usual care group and 20 of 167 (12.0%) among women in the treatment group. Full trial results were published in Annals of Emergency Medicine. 2010;56:413-423.

For more information on family violence visit the New Zealand Family Violence Clearinghouse at www.nzfvc.org.nz.

Other Interdisciplinary Trauma Research Unit projects are outlined on the trauma-research.info web site. Inside AUT - Violence Study
Wise Project Team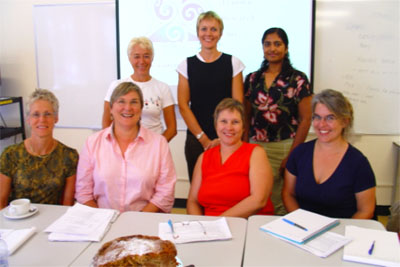 front row L to R: Vivien Lovell, Susan da Silva, Jane Koziol-McLain, Janet Fanslow
back row: Terry Dobbs, Sharyn Titchener, Pritika Sharma
Principal Investigator: Jane Koziol-McLain, PhD, RN
Associate Professor, School of Nursing, AUT
Ph: (09) 921 9760
Email: jane.koziol-mclain@aut.ac.nz

Co- Investigator: Janet Fanslow, PhD
Senior Research Fellow, School of Population Health (University of Auckland)
Ph: (09) 373 7599 Ext 86907
Email: j.fanslow@auckland.ac.nz

Co- Investigator: Dr Emma Davies
Institute of Public Policy (AUT)
Ph: (09) 921 9999 Ext 8408]
Email: edavies@aut.ac.nz

Co- Investigator: Dr Ian Hassall, MB, FRACP, DCH.
Senior Researcher, Child and Family Programme, Institute of Public Policy (AUT)
Ph: (09) 921 9999 Ext 8466
Email: ian.hassall@aut.ac.nz

Project Manager: Vivien Lovell
Email: vivien.lovell@aut.ac.nz

Project Leader (Northland Young Persons): Terry Dobbs
Email: terry.annedobbs@aut.ac.nz

Project Leader (Auckland): Maria Rameka
Email: MRAMEKA@aut.ac.nz

Project Leader (Northland): Susan da Silva
Email: sdasilva@aut.ac.nz