Personalised Modelling for Integrated Static & Temporal Data
Abstract
The Brain-Like Artificial Intelligence (BLAI) is pioneered by Prof.Nikola Kasabov and here it is applied to a specific application.
NeuCube-based Personalised Modelling is an advanced data modelling system that offers improved personal outcome prediction, personalisation of treatment and understanding through identifying the most predictive factors for a person across various types of data, including both static and dynamic (temporal) types.
This system can be applied to brain data, environmental and ecological data, social and financial data etc.
The proposed NeuCube personalised modelling is performed based on the following diagram: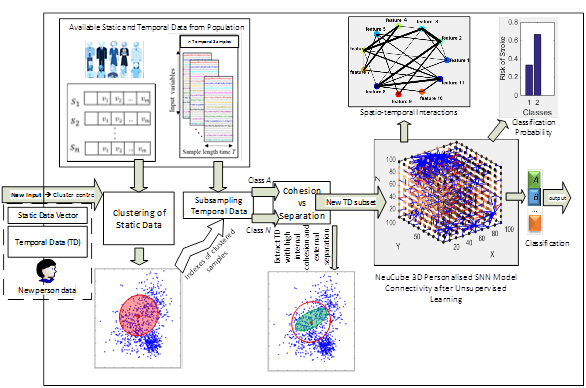 Figure. The NeuCube personalised modelling for integrated static and dynamic data.
NeuCube-based Personalised Modelling has been applied to several case studies including the following:
---
Related Papers, Patents and Benchmarking
The proposed methods and systems, when compared with traditional statistical and machine learning methods, showed superior results in the following aspects:
Better data analysis and classification/regression accuracy (by 10 to 40%);
Better visualisation of the created models, with a possible use of VR;
Better understanding of the data and the processes that are measured;
Enabling new information and knowledge discovery through meaningful interpretation of the models.
See also some of the related papers:
Doborjeh, M. G., & Kasabov, N. (2016, July). Personalised modelling on integrated clinical and EEG spatio-temporal brain data in the NeuCube spiking neural network system. In Neural Networks (IJCNN), 2016 International Joint Conference on (pp. 1373-1378). IEEE.
Kasabov, N. K., Hou, Z. G., Feigin, V., & Chen, Y. (2014). U.S. Patent Application No. 14/914,326.
N.Kasabov, V.Feigin, Z.Hou, Y.Chen, Improved method and system for predicting outcomes based on spatio/spectro-temporal data, PCT patent WO2015/030606 A2, US2016/0210552 A1. Granted/Publication date: 21 July 2016.
N.Kasabov, Data Analysis and Predictive Systems and Related Methodologies, US patent 9,002,682 B2, 7 April 2015.
---
R&D System
For this project, an R&D system has been developed based on NeuCube. The system can be obtained subject to licensing agreement.
---
Developers and Students
The developers of this project are: